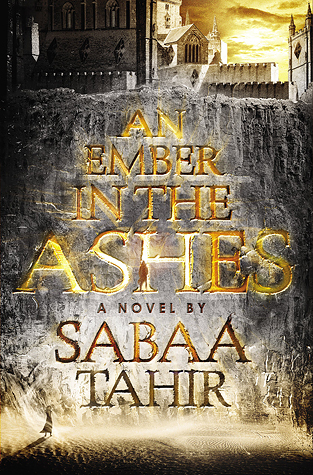 Laia is a slave. Elias is a soldier. Neither is free.
Under the Martial Empire, defiance is met with death. Those who do not vow their blood and bodies to the Emperor risk the execution of their loved ones and the destruction of all they hold dear.
When both Laia and Elias find themselves in undesirable situations, faced with choices that could define and destroy their lives, how will they make it through?
The second book doesn't come out for almost five months. I have no idea how I'm going to survive the wait.
First of all, this book has a horrible synopsis. At least, the one I read was. And it's not bad in a sense that it doesn't get you interested, it's just that it blabs a third of the book!
The one I've given is not that one. I didn't want people to go through what I did. And that is reading over a hundred pages of things I already knew were going to happen. It made the book seem uneventful when that was not the case at all. You know how I know that? Because a lot of stuff went down.
But after I got through the chunk that was given in the synopsis, I couldn't put the book down. It was fast paced, full of heart-stopping events and I loved it.
But still, up until about 75-80% of the way through, I was going to give it 4 stars. But that last part got rid of most of the things that irked me, like Laia's character and I couldn't not give it 5 Stars.
The characters, good and evil, in this book are, honestly, fabulous. They are very well-developed and you feel things towards them, good and bad. The authors torments our protagonists so badly that I had to take frequent breathers because they were constantly in mortal danger.
The few things I still had a problem with was that the world building could have been smoother and clearer. The names of the co-characters got all muddled up for me, and I would really like to know the commandant better. And there was the use of words "Izzat" and "neem" except they didn't mean, in the book, what they actually mean. And I wish the author had just made up new words instead.
Overall, this was a wonderful book and I highly recommend it. Though maybe you should wait until we're nearer to the release date of the second book because the wait is going to suck.