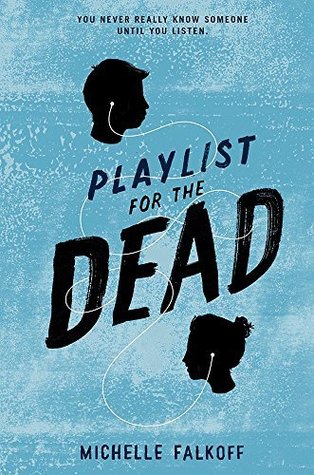 Here's what Sam knows: There was a party. There was a fight. The next morning, Sam's best friend, Hayden, was dead. All he left Sam was a playlist of songs—and a note, saying that he took his own life. But what Sam doesn't know is: Why?
To figure out what happened, Sam has to rely on the playlist and his own memory.
Sam knows he has to face up to what happened the night Hayden killed himself. But it's only by taking out his ear buds and opening his eyes to the people around him, that Sam will finally be able to piece together his best friend's story.
And maybe have a chance to change his own
Took me a long time to get into, this one. It wasn't until I got halfway that I really flew through it. Before, I only read about 30-40 pages a day and that was it.
I went into it thinking Sam was going to be decoding the playlist songs. That didn't happen at all and it wasn't what the synopsis said so it was my fault for misunderstanding. And besides, the story that replaced it was fine.
I liked Sam. He was a great characters and I really connected to him. I liked reading about his struggle to deal with Hayden's suicide.
The other characters didn't resonate with me as much but they were okay. I had trouble dealing with Astrid but I think that's because the romance in the book wasn't done well. It felt forced and out-of-place in this book. I understand why it was there but I still wish it hadn't been.
The really liked the ending. It was pretty ballsy and it gave us closure. Things got explained (though, the Archmage_Ged explanation was a little vague) and it was I wanted from the book.
Overall, this was an interesting read and I recommend checking it out. The mysteries won't blow your mind but they won't be underwhelming either.