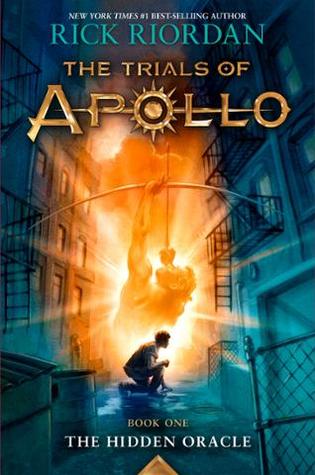 Genre: Middle-grade fantasy
Pages: 384
Series: The Trials of Apollo #1
How do you punish an immortal?
By making him human.
After angering his father Zeus, the god Apollo is cast down from Olympus. Weak and disoriented, he lands in New York City as a regular teenage boy. Now, without his godly powers, the four-thousand-year-old deity must learn to survive in the modern world until he can somehow find a way to regain Zeus's favour.
Disclaimer: This book is a spin-off of the Percy Jackson and the Olympians and the Heroes of Olympus series. While you can read it fine without reading those, it will be better if you do read those. The book contains spoilers for both those series. The review doesn't.
This book was my most anticipated read of the year, along with Lady Midnight. And I was really excited, but also scared, about the release because I didn't want to feel like it didn't live up to the hype inside my head.
And if the rating is any indication, it definitely lived up to the hype in my head.
This book was everything that I wanted it to be and even things that I didn't know I wanted it to be.
It was, in classic Uncle Rick style, absolutely hilarious. It had amazing characters – I swear, Apollo was so entertaining and on-point… it was perfect – and a fast paced, engaging storyline. Meg was a pest in many parts, exactly what Apollo needed, but she also had her emotional and good moments.
I'm honestly having a hard time describing how happy I am with this book and how much I loved it. The character development alone was amazing. And the development that's to come has gotten me super pumped for the rest of the series.
The character cameo's were fantastic. I can't say much about them because they'll spoil the Percy Jackson and the Olympians and the Heroes of Olympus series' for anyone who hasn't read them yet. Just know that I fangirled so hard at all those moments.
If I wanted, I could say that there were moments when it felt like we went a bit too far off the island of believable, but the thing is… I don't want to. They were fun and didn't bother me much.
I can't wait to find out what Uncle Rick, and Apollo, has in store for us next.
Overall, this was a brilliantly written (as always), funny, fast-paced read with a very interesting plot and great characters. You have to read it.