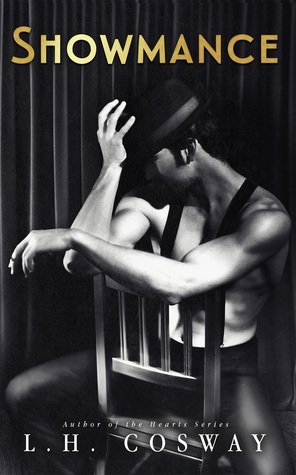 Genre: New Adult Romance
Pages: 306
Series: No (so far)
Damon Atwood, having won an Oscar at the tender age of thirteen, he had the life many could only dream about. But his success came at a price, and he chose to live a life of obscurity on a remote Scottish island. Almost a decade later he's finally ready to make his return, starting with a lead role in a musical on London's West End.
As a choreographer's assistant, Rose Taylor has always faded into the background. She has never craved stardom. When rumours begin circulating of Damon's involvement in her latest gig, she doesn't predict how she will be thrust into the limelight, nor how the mysterious and strangely introverted man will need her to teach him how to be a star again.
I wanted to like this book. I really really did. Because I love L.H. Cosway. Unfortunately, that didn't happen.
The writing was still good and I liked the beginning of the book. I even liked the characters initially.
But then the book started to drag. The plot became a bit petty, like I was reading something set in highschool. I just didn't understand why the whole Brake thing was necessary.
Honestly, the only issue that was there was a lack of communication (which was strange since they worked together everyday and lived five minutes away) and lack of trust (the amount of jealousy and suspicion was absurd). These things could have been easily resolved but simply weren't. Maybe the book could have worked as a novella.
Anyway, I kept waiting and waiting for it to get better. For it to mature. It never did. I can't remember one thing that happened with Damon and Rose that was significant. It was, like I said, a drag.
One things that I did like was a character, Julian Fairchild. He was hilarious and interesting and he's someone who's story I would like to read. I also found the character of Alicia to be interesting. She was a very layered character. Another one I would mind reading about. These two character really helped the book.
Overall, an unsatisfying and uneventful read for me, but with good supporting characters. I wouldn't recommend it, even though it might be worth it for Julian.