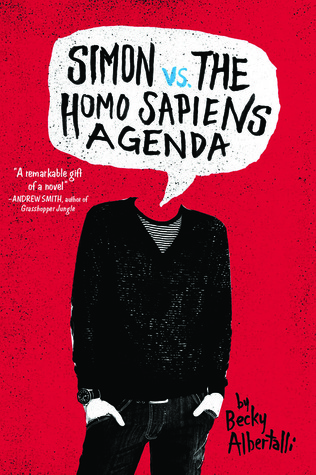 Genre: YA Contemporary Romance, LGBT
Pages: 303
Series: No
Synopsis:
Sixteen-year-old and not-so-openly gay Simon Spier prefers to save his drama for the school musical. But when an email falls into the wrong hands, his secret is at risk of being thrust into the spotlight. Now Simon is actually being blackmailed: if he doesn't play wingman for class clown Martin, his sexual identity will become everyone's business. Worse, the privacy of Blue, the pen name of the boy he's been emailing, will be compromised.

With some messy dynamics emerging in his once tight-knit group of friends, and his email correspondence with Blue growing more flirtatious every day, Simon's junior year has suddenly gotten all kinds of complicated. Now, change-averse Simon has to find a way to step out of his comfort zone before he's pushed out—without alienating his friends, compromising himself, or fumbling a shot at happiness with the most confusing, adorable guy he's never met.
This book was my first read of 2016 and I adored it. It was the perfect way to start the year. Here's my Goodreads review which, I'm sure, will tell you my feeling about it very well.
Oh my god, this was so preciously, beautifully, awesome-ly amazing and I loved it so so much… that I sound like a 12-year-old gushing over One Direction. Though that's not entirely bad since we all need to get in touch with our fangirly side every once in a while.

Okay so the beginning line may have been a bit of an exaggeration but I really did love this book. Not just because I enjoyed it but also because my nitpick-y, critic side also very much approved. So this is gonna be one of those rare moments when I list all the things I loved and nothing else (I swear, those moments almost never happen).

I loved Simon and how adorable, funny, sweet, ignorant, silly, stupid, cute, loving, forgetful and basically just how human he was. He was such a likable main character and was the perfect choice for this book. Honestly, Becky Albertalli couldn't have come up with protagonist for this story.
I loved all of Simon's friends and their complicated, yet sometimes really simple, relationships with each other.
I loved that the author was careful to make Simon's emails a combination of the narration and the way he talked. It's not something I noticed initially and it was really smart.
I loved watching the two Simons, the one in the letters and the one with his friends, become one person even under the horrible circumstances.
I loved how the book wasn't too dramatic and depicted life so well. There weren't any too-perfect characters or loud dramatic monologues or evil villains. There were just a bunch high schoolers figuring out their life. It was simple and beautiful and so very real.
I loved the relationship between Simon and Blue and figuring out who Blue was. They were both so great and their emails were the cutest thing ever.
I loved the ending, even though I can't tell you what it was. Things were tied up so well.

Overall, this book was so simple and so wonderful and I'm so happy to have read it. I definitely think everyone else should read it as well. This is not a story you want to miss.
Yeah… I went completely fangirl. No shame though.
But seriously, I really, highly recommend this book. It is amazing. I'm gonna be reading it again soon.