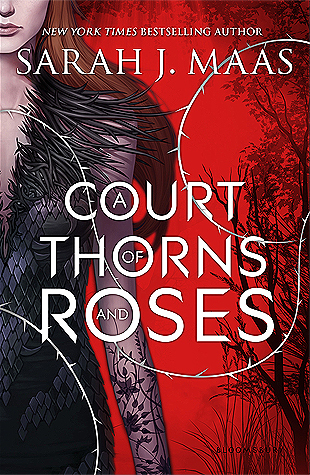 Genre: YA Fantasy
Pages: 416
Series: A Court of Thorns and Roses Trilogy #1
When nineteen-year-old huntress Feyre kills a wolf in the woods, a beast-like creature arrives to demand retribution for it. Dragged to a treacherous magical land she only knows about from legends, Feyre discovers that her captor is not an animal, but Tamlin—one of the lethal, immortal faeries who once ruled their world.
As she dwells on his estate, her feelings for Tamlin transform from icy hostility into a fiery passion that burns through every lie and warning she's been told about the beautiful, dangerous world of the Fae. But an ancient, wicked shadow grows over the faerie lands, and Feyre must find a way to stop it.
I was so sure I was going to love this book. I mean, it's a retelling of Beauty and the Beast and it has faeries in it. What could go wrong? Evidently, a lot.
I enjoyed the book initially. For about two-thirds of it, I thought it was good. It still had problems but I just assumed that all those were going to resolved in the last third of it. And the fact that so much of the book was riding on the last third being great was its downfall. Because the final third was horrible.
It was so ridiculous and wrong for this book. I'm pretty sure it was only done this way because the author couldn't think of any other way for Feyre to seem powerful. Because apparently, that's the only thing that matters.
Here are all the things that went wrong in the book:
1. It was slow paced and included a lot of build-up. That would have been fine if the build-up led to something great. Since it didn't, things crashed.
2. It has weak characters. Tamlin was okay but I can't help but feel that we didn't really get to know him. The "villain" was pathetic. Rhysand was interesting but there was so much next-book-set-up going on with his character that I couldn't have fun with him. The only truly interesting character was Lucien. He was great.
The worst was Feyre. At first, she was a Katniss-wannabe, then she became annoying, then she lost all her will power and became unimportant. Finally, she turned into an idiot.
3. There was a lot of focus on the romance. It was expected since this is a fairytale retelling and would have worked if it had been epic. I saw a connection between Tamlin and Feyre but it didn't build up to what it could have. Again, I blame the final third of the book.
4. The "big reveal" was done terribly. Like seriously, it was all shoved into one chapter like an essay. Ugh!
5. Petty, angsty, deliberately controvertial, typical YA stuff that makes me hate the genre. If anyone ever asked me why I hated YA (and I really do sometimes), I'll just hold up a copy of this book.
6. Poor world building. Nothing about the fae was explained. How did they get their magic? What did their magic do? Why were some people more powerful than others? How did they do magic? How did it worked? How did the permanent spring work? Basically, if I didn't already know about fae, I would be waiting for the pretty ladies with wings who wore pretty dresses and carried magic wands.
Overall, I didn't like this book and I don't recommend it. Some say the next book is better but from what I know of it, Maas is planning to pull a Tehereh Mafi where the good guy turns bad and the bad guys turned out to have been good all along. Most people liked what Mafi did; I was not one of those people. Also, the book is 600 pages and is said to pick up only after the first 400. No, thank you.