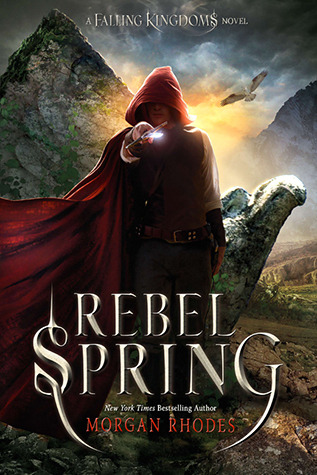 Genre: YA Fantasy
Pages: 401
Series: Falling Kingdoms #2
Disclaimer: This review will contain spoilers for the first book of the series, Falling Kingdoms. 
After the war in the first book, Gaius rules over all the three kingdoms of Mystica. Cleo is a prisoner in her own palace after losing her sister and father, Jonas is a rebel against Gaius, Lucia is weakened by her massive use of power in helping her father, and Magnus stands by his father, next in line for the throne.
Basically, shit has gotten real and, I gotta say, I liked this book a lot better than the first one.
The first one involved a lot of set up for the rest of the series but was still quite eventful. This was, while not being as eventful, was still more likeable. And that's because:
The writing had improved a lot. That was my main issue with the first one. And the writing kept improving throughout the book. Not nearly as awkward.
This one was less predictable. While there was no read OMG moment, it did surprise me at times.
The lack of plausibility wasn't as transparent. Unlike the first book which was full of stuff that had no given explanation and was far-fetched, this one worked better. Though I still hope the author works on that.
It focused on the character. That worked in the book's favour because in the beginning of this book, I didn't like anyone other than Magnus. Now, I'm okay with Cleo and Jonas as well. I like Lysandra and I even have hope for Lucia.
Overall, I liked this book. I still think the series will get better and I have yet it give up hope for a team. If all goes well, I'll get my team of badasses.