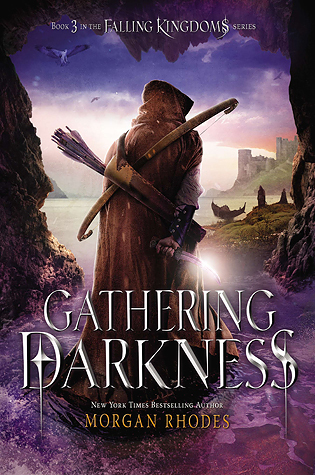 Genre: YA Fantasy
Pages: 416
Series: Falling Kingdoms #3
Disclaimer: This review will contain spoilers for the previous two books in the series, Falling Kingdoms and Rebel Spring.
This book starts off just days after when the last one ends.
Magnus is furious with his father for having his ,other killed,  Jonas tries to find out more about his rebel group's condition after a kidnapping gone wrong and Cleo is trying to befriend Lucia to gain her trust so she can use her to get the Kindred and claim her throne.
I was very confused about how to rate this (hence the 3.75 rating) because it didn't have the best beginning. It was uneventful and, while the pace picked up, the book didn't get really exciting until the final third or quarter of the book.
There were events in the book that felt anticlimactic and there were, once again, plot hole. Like in the second book, Jonas breaks into the castle to talk to Cleo but we're never told how he accomplished that. If it were so easy, wouldn't the king already be dead? Stuff like that was in this one as well and it bothers me.
Still, I did enjoy the book.
There was romance in the book but it wasn't the main focus for any of the characters, except Lucia, who I don't like at the moment. The character development was great. While Magnus will probably always be my favourite, Cleo has gotten a lot smarter. I think there wasn even a turning point for Jonas. Lucia… I don't wanna talk about her.
When you think about it, this book might be a turning point for the entire series. So much shit went down and it's not something you can come back from. I'm very interested to know which direction the story is heading now.
Oh and, I finally have a ship! I had couples that I thought might be good, before, but now I have a definite ship. And that is… Magnus and Cleo! Please don't drown my ship, Morgan Rhodes.
Overall, this was a really good book and, by far, my favourite in the series. Excited to read the next part. I'm starting it right after I finish writing the review, which is now.