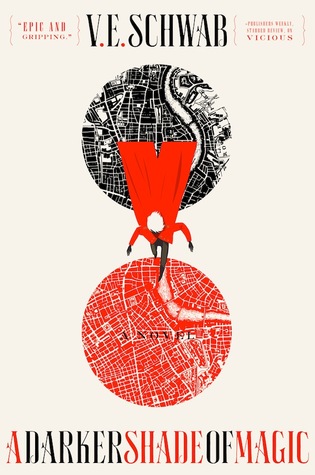 Genre: YA Fantasy
Pages: 400
Series: Shades of Magic #1
A Darker Shade of Magic is a book in which there are four different versions of the world and, in each world, there is a london. Kell has named then Red London, Grey London, White London, and Black London and he is one of the only two people who can travel between these dimensions. But he, the adopted prince of Red London, also has a dangerous hobby of smuggling objects between Londons. This hobby leads him into deep trouble.
Delila Bard is a thief. She steals so she can finally be free and have an adventure. When her path crosses Kell's, she is sure that he is the ticket to that adventure that she craves.
Lila was not a character that I particularly liked. She was very childish and seemed to think that everything was a game. I understood why Kell found her helpful but I still didn't develop much fondness for her.
Kell was pretty cool. He was a good guy who wanted to do the right thing. But he was troubled and he didn't understand why. His journey was fun though. And I liked his relationship with Rhy, who was kinda awesome.
The world was very interesting and the world building was done very well. I loved the story and was, overall, very happy with the read.
The only problem was the pace. It was so slow! I kept waiting and for things to happen and for the pace to pick up. And while the former did occur, the latter never did. Even a fight near the end seemed to be in slow motion. It kind of sucked the excitement out of the experience.
But still, the book was very good and I do recommend it. Just be prepared for things to move very slowly.