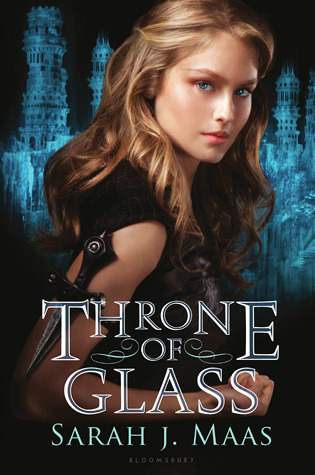 I'm putting this cover because the book doesn't deserve the awesome one.
Genre: YA Fantasy, Romance
Series: Throne of Glass #1
Pages: 404
I finally finished it! Yes!
It took two attempts. The first time, I only got to chapter 15. Then months later, I forced myself to restart it and read it to the end (with a two-day break, of course). And even then, it only happened because I was listening to the audio book.
The book follows Celaena Sardothian, an assassin who has been in prison for a year. Finally Dorian, the crown prince of Adarlan, gives her a chance at freedom. He tells her that she has to compete with 23 other trained fighters in a competition and, if she wins, she will serve as the king's assassin for 4 years and then her sentence will be pardoned and she will be free. She takes him up on the offer.
But the competition takes a dark turn when contestants start being mysteriously murdered.
The premise sounds pretty interesting. And the book was entertaining at parts. The story that Maas was trying to write (or I think was trying to write) was a good one. And I get why lots of people might like it. But for me, I didn't live up to its potential. Not even close.
I wanted to read about a badass assassin.
Unfortunately, the "assassin" wasn't very badass at all. She was whiny, vain, arrogant, and not very smart. Add that to the fact that she doesn't kill anyone in the book, and I had a difficult time believing her to be "Adarlan's greatest assassin".
Besides, how does one person become expertly skilled at all weapons and poisons, learn how to kill, have loads of time to read, travel to different places for additional learning and kill enough people to be named the greatest assassin, between the age of 8 and 17? I don't buy it.
Moving on from her, the book tried to add lots of different things in it. Fantasy, politics, mystery, deadly competition, romance, history and a love triangle. But the only thing that was accomplished was the love triangle; which I didn't like. Seriously, the book glossed over the entire competition and there was hardly any sense of mystery behind the murders. It was more focused on stupid parties and who wanted who.
Dorian and Chaol were okay characters and would have been better if they were concerned about something other precious Celaena. I liked Chaol more than Dorian and I can't, for the life of me, figure out what he sees in Celaena.
The writing was good when it wasn't being stuffed with endless dress descriptions and gauging who stood where on the prettiness meter. I can't count the amount of times I rolled my eyes at the frivolous monologues about Celaena's feeling about a person or a thing. And her tantrums were very annoying.
It upsets me that Celaena is a terrible character. I wanted her to be good. I would have liked someone who kicked major but and also liked parties and clothes. And books. If only she came off as less of a spoiled brat.
Kaltain was a character I waned to know more. She seemed interesting. But she was dumbed down and dismissed. Nehemia was good but, again, would've been better without the Celaena-worship.
Finally, the reveal about who was responsible for the murderers was very disappointing. It's as if the author was so busy with everyone's relationship status, she couldn't be bothered with writing a good conspiracy. My reaction was literally, "You're kidding me, right?"
Overall, the book could have been good. But between the lack of action, the minimal world building, bad protagonist, focus on everything except what mattered and other dumb things like a king being okay with a criminal in close proximity or a secret passage no one seemed to know about – it was bad.
I, personally, wouldn't recommend it. But since many people love the book, it's up to you.