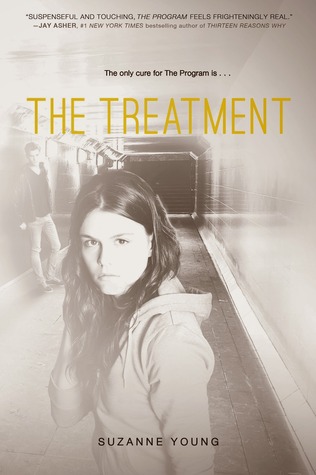 Genre: YA, Dystopian
Pages: 344
Series: The Program #2
Disclaimer: This review will contain spoilers for the first book in this series.
The Treatment is the second book in The Program series. It is also the last book in the duology (or, at least, the last one that focuses mainly on Sloane and James).
At the end of book 1, we saw that, despite going through The Program, James and Sloane found a way back to each other. They have realized that The Program isn't as good as they would have you believe and now they're on the run from the institution. They join up with rebels to find a way to put an end to The program.
We also know that Realm gave Sloane a pill that gives a person back all the lost memories. And this book has large focus on whether she will take the pill, where it came from, and how it works.
When I start reading a book, I start at 5 Stars. And then, as we go on, it goes up and down according to how the book is. And now I'm going to write how I came to 3.25.
Starting at 5 stars, it soon jumped to 4.75 because of the mushiness of James and Sloane's relationship. It wasn't too bad, but I wish it had been toned down a little. Then there was the plot hole-y ness and it moved to 4.25.
By plot hole-y, I mean that a lot of things weren't explained. No one talked about how the rebels formed,how they afforded things, how they found their bases, what their purpose was, why The Program was so insistent on getting rid of them, stuff like that. It made the book seem way too unrealistic.
Then came the club scene (stupid) and the Realm chapter with the love-triangle crap (stupider) and we were down to 3. The book could have easily recovered though, if the author had stopped pushing the love-triangle. But she didn't.
The entire things, what I like to call "Sloane, Realm and Everything Pointless" could have been easily resolved. But for a large portion of the book Sloane was all "I love James. But when Realm shoes up, I'm gonna let him take my hand and kiss my wrist. And I'm gonna give him a hug when I'm in nothing but a towel. I'm also gonna put my head on his shoulder while we watch the beautiful scenery. And I'm gonna be jealous of his relationship with Dallas and I'm gonna think about him. Every. Fucking. Second. But I still love James."
It pissed me the fuck off. If I were James, I would've dumped the two-timing <insert appropriately bad word here> because I swear to God, Realm was mentioned at least twice on every page. And that was when he wasn't even in the scene!
Realm was a character I would have liked if he wasn't so annoyingly over-present. Sloane ruined him for me.
After that, the book went on in a similar manner and 3 was pretty stable because even when some good stuff happened, Sloane, Realm and Everything Pointless kept getting in the way.
The .25 raise happened because I liked the ending. It could have been more climactic but I still liked it.
And this is how the book got a 3.25 rating.
As for what I didn't mention, the writing was good, if a bit dull, and the pace was okay. The story's focus was on the emotional aspects so the lack of action made sense.
Overall, it was a fine end to the James and Sloane story that would've been better without Realm. The rest of the series never lived up to the first half of the first book but I still recommend checking the series out. It's good.