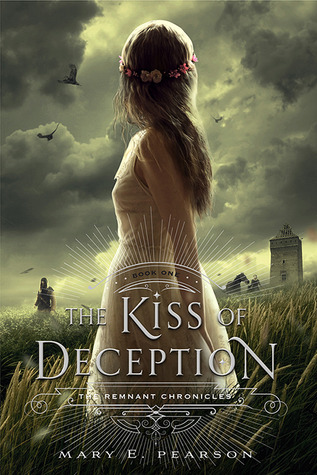 Genre: YA Fantasy
Pages: 492
Series: The Remnant Chronicles #1
This book was, for a lack of better word… unexpected.
This book follows Lia, a princess, who is to be married to the prince of a neighbouring kingdom. But she does not wish to marry someone she doesn't know, so she runs away. Two people follow her. One is the prince who she ran away from, and the other is an assassin tasked to kill her. Now she's caught in a web of secrets and deception.
I didn't have many expectations going into it. I just knew what it said in the description. I didn't even read any reviews because I was sure that I wanted to read it and I feel like reviews can affect our experience and our opinions.
What I got from description was that there was going to be a love triangle, this book would be a high fantasy and that it would have something to do with getting the kingdom back for becoming queen or something related to the kingdom. It was not any of those things.
There were times when you really saw a love triangle but, in the end, after some thought I came up with the conclusion that there really wasn't one. I can't tell much more, I don't want to give any spoilers, just that the book was written to mess with the reader's head.
This was not a high fantasy. There was hardly any supernatural element in it. It was more of a historical, alternate-universe, young-adult fiction. And while that put me off at first – why call it fantasy if there's barely any fantasy element? – later on, when things became clearer, it was okay.
It was not about kingdoms or thrones. I mean, it was, but it was more about people. And I really liked that. It was about Lia and her growth as a character and it was repercussions of actions, grief, family and many other things. Ruling was never a part of it.
So, this was an unexpectedly good book. Not that I didn't think it would be good, but I didn't think it would be good in this way.
The writing was good. The pace of story was bad because for the first half, I felt like nothing was happening. But then there was the plot twist and I found out the reason for the book's slowness. But while the plot twist was great and definitely worth it(not counting the fact that the first half also had a lot of character built up), I didn't think it was absolutely necessary. We could have done without it. But it made the book more enjoyable so there's that.
I also really like the little excerpts given between chapters. While I didn't really know what they were at the beginning, they contributed to telling us more about the world and I understood them as the story progressed. And I just like them.
One things I wanna add, the MC's were both recklessly brave and determined. Extra emphasis on the 'recklessly'. Miss Burying-the-dead and Mr She's-not-going-without-me could team up to give Percy Jackson some competition. I kinda loved them for it.
So, overall, I really enjoyed the book (flaws and all) and I'm moving on to the next part very soon because the ending… (Oh my God!)