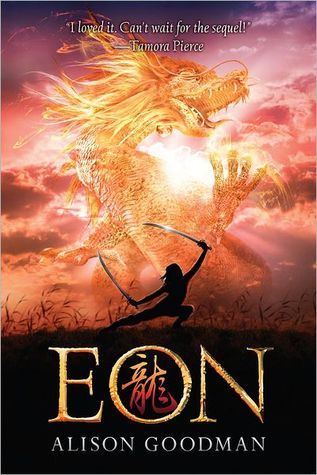 Genre: YA Fantasy
Pages: 531
Series: Eon #1
Twelve-year-old Eon has been in training for years. His intensive study of Dragon Magic, based on East Asian astrology, involves two kinds of skills: sword-work and magical aptitude. He and his master hope that he will be chosen as a Dragoneye–an apprentice to one of the twelve energy dragons of good fortune.
But Eon has a dangerous secret. He is actually Eona, a sixteen-year-old girl who has been masquerading as a boy for the chance to become a Dragoneye. Females are forbidden to use Dragon Magic; if anyone discovers she has been hiding in plain sight, her death is assured.
I got this synopsis right from the Goodreads page. The world is complicated and has so many aspects to it, I couldn't figure out the best way to phrase things so that they actually make sense.
The world that Alison Goodman has introduced is fascinating and unique and is, quite honestly, the best part of the book. The characters are also very well-developed and distinct. Some of them are very likable and the villain is sufficiently loathsome. Unfortunately, the protagonist Eon, or Eona, is not one of those likable characters.
She lies a lot, is constantly afraid and struggles to find a backbone. She also whines and is overall a pretty. But that can be excused by saying that the series is her journey to becoming awesome (I'm hoping for that in the sequel). But it doesn't excuse how dull she was. She spent so long trying to find the solution to a problem (a solution that was so fucking obvious), all the while doing every wrong thing she could. She didn't even figure it out later on. Someone else did.
That "solution" was the problem with the second half of the book that made reading frustrating. The problem with the first half was that it was very slow. I struggled to get through it.
The final twenty percent was easily the best portion of the book even if I do have mixed feeling about some things. I still want to read the sequel. It was the reason I read this book, to read the sequel. I've been excited about the sequel ever since I read this book's synopsis (it's strange, I know).
One last thing I want to mention is the "chosen one" trope. It could've been done better. I think I'll discuss the trope in a separate article/rant.
Finally, I'll say that if you're patient, a fan of high-fantasy and want to read about a cool new world, you should give this book a shot.