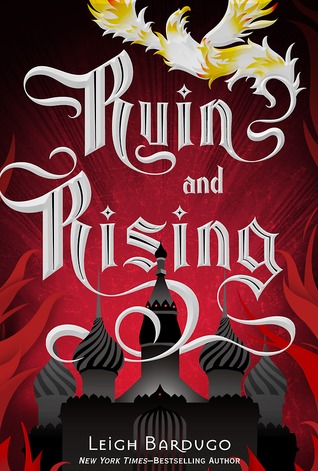 Genre: Young-Adult, High Fantasy
Pages: 422
Series: The Grisha Trilogy #3
Disclaimer: This review will contain spoilers for the previous two book of the series.
This is the third and final book of The Grisha Trilogy and it starts off a few months after Siege and Storm ended. The fight with the Darkling that killed many of Alina's Grisha and almost killed her, has left her weakened. More so because the Apparat, who helped in the battle, seems to have turned Alina into a saint and has hidden her underground, treating her not much better than a prisoner.
Alina has to find a way to escape the Apparat, find the third amplifier, and defeat the Darkling.
And believe me, defeating the Darkling is not an easy task, considering how old and experienced, not to mention smart, he is. The Darkling was a very good villain. One of the best and most interesting ones I've read so far.
I liked all the character, to be honest. I know most people don't like Mal but I've never had a problem with him. But I also haven't liked him as much as I did in this book. In the previous two books, he was having trouble finding his way. But in this one, he is so awesome. Confident, smart, cool, focused, and just a great guy.
Alina kicked ass as well. But she also had her moments when she became too "Me. Me. Me.", at which point she annoyed me. I also feel like she never became as strong as she could have. Always being indecisive and sometimes mean and bratty. It was a little disappointed.
Other character I loved were Zoya, Tolya, Tamar, Harshaw, Oncat etc. etc. And, the big name I left out: Nikolai Lantsov. Just… awesome.
The pace was better in this book. The story was great and took me by surprise quite a few times. It was also very unnerving. You just never knew who was going to show up and try to kill everyone. The ending was perfect, for the book and for the series. I am so happy with this book and I can't wait to read Six of Crows.
The main problem I had was regarding Alina and Mal's relationship. Or more precisely, about its conflict, the reason they couldn't be together. I didn't buy it. It just felt weak and fabricated, there for the sake of angst. Because a YA novel because a suffocating amount of angst? Preposterous!
Overall, this novel, and series, was great, a lot better than I expected and I'm eager to read more from the author.