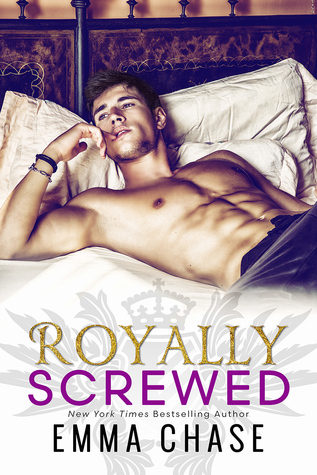 Genre: New Adult,Contemporary Romance
Pages: 276
Series: Royally #1
Royally Screwed is a book told from dual point-of-view, that of Nicholas—Crowned Prince of Wessco—and Olivia, the owner of a small cafe in New York, where the two of them meet. And while their first meeting doesn't go pleasantly, soon they both find themselves swept in a romance under the constant eye of the paparazzi. Fun, right?
It was fun. I'd been very excited for this read. Not because I'm into princes, but because I like the author and the little snippets sounded awesome. And I was not disappointed.
This is a very funny book. Not as funny as Sustained, but I imagine that's not something easily attained. But it is funny, and very cute, and sweet, and entertaining and I really enjoyed reading it. It's also quite short. So that's a plus for all of you who aren't fond of bulky reads.
Both the protagonists are awesome and they have great chemistry. I loved watching them meet, talk, and develop the relationship that they did. I was really rooting for them both. This was one of the rare cases when I wasn't annoyed with either of the main characters. Or any one the side characters. I'm kind of surprised that I wasn't pissed of even once during this book. I was mostly smiling, laughing, or sad (because sad shit happened).
This was a well written novel, the dual perspectives was handled very well, the pacing was great and so was the story. Sure, it wasn't the most realistic story and it had its part of cheese, but honestly, the book has a literal prince in it, how do you not get at least a little cheesy? Also, no matter how much I try, I can't bring myself to give one flying fuck about realistic-ness. Sue me.
Overall, this was a great read that I really think you should check out. I, myself, am looking forward to the next book in the series which features a different prince.