Another month and another post without a proper intro-text-thingy, because I suck at that stuff. So we're just gonna get to the books.
Heartless by Marissa Meyer – Nov 8
Long before she was the terror of Wonderland — the infamous Queen of Hearts — she was just a girl who wanted to fall in love.
This is a retelling of the story of the Queen of Hearts by Marissa Meyer, and that's all you need to know. It's gonna be awesome and I'm very excited.
All in Pieces by Suzanne Young – Nov 8
This is a Young-Adult, contemporary standalone.
It is a novel about a girl struggling to deal with anger issues while taking care of her younger brother with special needs. It starts when the protagonist, Savannah Sutton, is sent to Brooks Academy—an alternative high school that's used as a temporary detention center.
Tales from the Shadowhunter Academy – Nov 15
This is a collection of ten short stories starring Simon Lewis set after The Mortal Instruments series in the Shadowhunter Academy, leading up to Simon's Ascension.
By authors: Cassandra Clare, Sarah Rees Brennan, Maureen Johnson and Robin Wasserman.
Moonglow by Michael Chabon – Nov 22
Moonglow unfolds as the deathbed confession, made to his grandson, of a man the narrator refers to only as "my grandfather." It is a tale of madness, of war and adventure, of sex and desire and ordinary love, of existential doubt and model rocketry, of the shining aspirations and demonic underpinnings of American technological accomplishment at mid-century and, above all, of the destructive impact—and the creative power—of the keeping of secrets and the telling of lies.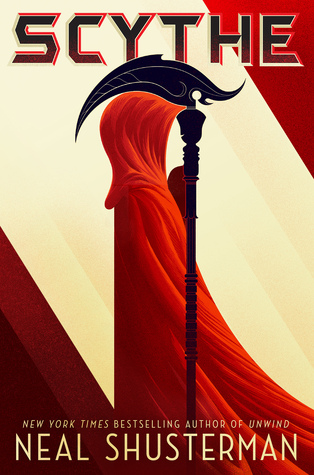 Scythe by Neal Shusterman – Nov 22
This is a YA, Science-fiction novel set in a world where disease has been eliminated. The only way to die is to be randomly killed ("gleaned") by professional reapers ("scythes"). Citra and Rowan are teenagers who have been selected to be scythe's apprentices.
Only one of them will be chosen so Citra and Rowan are pitted against one another in a fight for their lives.
The Fate of the Tearling by Erica Johansen – Nov 29
This is the third book of the Tearling trilogy, a YA fantasy series.
The first book is about an untested young princess who must claim her throne, learn to become a queen, and combat a malevolent sorceress in an epic battle between light and darkness.
You can add the books to Goodreads by clicking on the respective covers (I've linked the GR page). That's it for November. There aren't many books in this list but I'm excited about the ones that are there.