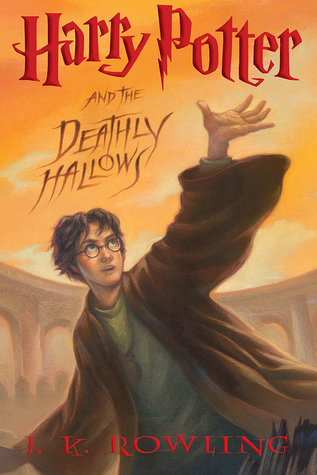 Genre: Fantasy
Pages: 784
Series: Harry Potter #7
The epic saga ends at last… and it's really sad.
On one hand, you're excited to find out how it all ends, but on the other hand, you really don't want it to end. Ever. Though I'm sure Harry was ecstatic to know that his suffering was finally about to cease.
Anyway, as you're all probably aware, series' endings are difficult. It's so rare to get one which doesn't cause at least a little disappointment. This series' ending is absolutely perfect. And that includes the epilogue, which so many people whine about. I found nothing wrong with it at all.
The way the book starts never fails to blow me away. The subtlety with which Rowling reacquaints us with the world and the characters… amazing.
And that amazing-ness continues throughout the novel. All those plots and sub-plots wrapping up and all those connections to the events in the previous books, everything that happens has such a huge significance and the way the story concludes is, honestly, perfect. I can't imagine it any other way. Even the sheer amount planning involved is unimaginable.
J.K. Rowling has written such a beautiful series and this book is the most beautiful of all. Her writing is magical and so many times, I sat there reading a sentence over and over because of how great it was. Like this sentence, for example:
Harry wondered whether, as he could feel, he would be able to see. In opening them, he discovered that he had eyes.
Isn't it flawless?
I just… I love you, J.K. Rowling. Thank you so much for writing this series, for giving us such a magical world and so many endearing characters. You story will be with me, and many others, forever.