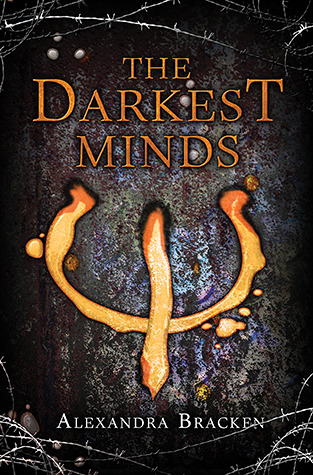 Genre: Young-Adult, Dystopia
Pages: 488
Series: The Darkest Minds #1 (Trilogy)
Release Date: December 18, 2012
The Darkest Minds is set in the near future in which there's a plague which spreads and starts killing children. The ones who survive develop superhuman abilities and are taken to different camps under the guise of rehabilitation. But in reality, they're prisoners. Ruby was taken to one such camp at age 10, after she unknowingly made her parents forget who she was. Six years later, she's broken out of there but she doesn't know who to trust and she's terrified of her own abilities.
And when I say terrified, I mean that she's genuinely afraid of what she might do to anyone she comes into physical contact with. She's been beaten down by all that's happened to her and she has a difficult path ahead to find strength and faith in herself.
Alexandra Bracken has written Ruby's character very well. The book is from her perspective and I liked reading of her inner struggles and seeing her slowly grow. I've read a few review in which readers complained that she was "weak" because she doesn't use her powers and wasn't excited about them. Total bullshit, in my opinion. How can you expect her to be excited about something that got her sent to a hell camp after she accidentally made her parents forget her existence?
But anyway, that's their opinion. I though Ruby was great, despite the ending. I mean, if I look at things impersonally, the ending was good. Otherwise, it was more of a 'Why the hell would you do that Ruby?!' kind. But I'm going to have faith (as much as a huge sceptic such as myself can have) that she'll put things right.
Other than Ruby, we have three main characters: Liam, Chubs and Zu. They're all kids who've escaped a different camp and I liked all three of them. I'm a bit partial to Liam because he is just such a great guy but for the most part, equal love all around.
The characters all worked really well together and when the story took a dip in the middle and became a bit slow and uneventful, they kept things going. The pacing in the beginning and end was good and so was the story, though it was, at times, predictable. Also, I would've have liked for the romance aspect of the story to be better developed.
But all that aside, the only major problem I had with the novel was the author struggling to paint a clear picture for the reader. In any scene that had action or required a lot of imagery, things got a bit fuzzy. It wasn't that bad, but it was inconvenient. Still, it didn't take much away from my enjoyment of the book.
This was a good start to the series. I'm excited to read the sequel and I recommend giving this one a shot.