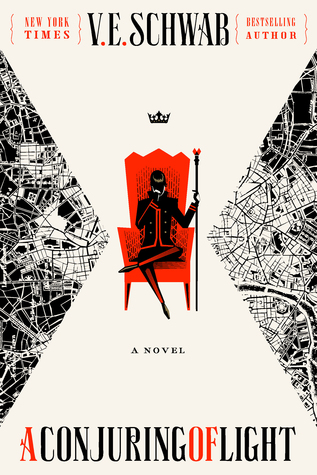 Genre: High Fantasy
Pages: 624
Series: Shades of Magic #3
Release Date: February 21, 2017
Disclaimer: If you haven't read the previous two books, don't read the review.
When you finish a really good book, usually when it's the last book in a series, there's this moment right after you've read the last word and right before your brain tells you that the book has officially ended. And you wish you could stay in that moment, stretch it out for at least a few hours, because it's just so perfect. You've read the ending, but the story hasn't truly ended just yet. I love that moment. It's very rare and I cherish it every time. This book gave me one and I'm so happy, yet so sad because, you know, the moment ended. Now I have to figure out how to life and stuff. Lifing is hard.
But it will go on. Right after I finish this review.
As you know, this is the third, and last, book in the Shades of Magic series. A lot of shadows gathered in the previous book and now they're attacking. Kell is chained up with a magic-sucking collar, Rhy is quite possibly dying, Alucard has no idea what to do with himself while he's watching Rhy die, and Lila is being her usual, reckless, self. Oh and, Holland's been possessed by an evil magic "god" who wants to take over Red London. All is the definition of 'fine and dandy'. NOT.
Everything has gone to hell and things are only getting worse. Whether or not they eventually get better is the mystery that will be solved when you read the book.
What I'm here to tell you is that this is exactly the right book to end the series. The world that V.E. Schwab created has always been fascinating and in this installment, we get to explore more of it (both literally and figuratively). The boundaries of magic widen and things build up to an ending that is so worth the wait.
I'm so happy with how things happened and how they ended. There were relationships shifting, building, getting stronger, there were characters finally on the path to becoming who they were always meant to be, plot points entwining and concluding. There was humor and danger and a lot of heartbreak (not even a little ashamed to admit that I cried). And if that hasn't convinced you to read this book, then I've got nothing to say that will.
If you're sceptical because last books in trilogies have a habit of ruining everything (I speak from experience), I don't think you should be. I won't guarantee that you'll love it because it is, in the end, a matter of opinion.
I loved it. And I'm hoping you will share the sentiment.
In the end, I just wanna add that I'm quite surprised by how calm this review is. Because I was a wreck the entire time I was reading. My mind was all, Kell! Rhy! danger! Alucard! Ships! (both kinds) Death! More death! More danger! Dammit Kell! Dammit Rhy! Dammit Lila! No! No! No! Everyone, stop trying to get yourself killed! aaahhhh…!
Maybe all the freaking out was kind of cathartic. Whatever the case, it was perfect.