Last month, I changed my Goodreads reading goal for 2017 from 150 to 200 for some insane reason. And when I did that, it put me 10 books behind schedule. In order to catch up, I was hoping to read 20 books during the month of March, and while I didn't manage that many, I read 17, which is pretty freaking awesome if you ask me.
And since I read so many, I'm not even gonna try to write mini-reviews for them all (it would take hours and would drive me nuts). I will, however, list all the reads, link the reviews and write the ratings. Here are the books I read in March:
Never Fade by Alexandra Bracken – 3 Stars
Yours by Jasinda Wilder – 4 Stars
Passenger – 4.5 Stars
Do Androids Dream of Electric Sheep? by Philip K. Dick – 4 Stars
Paper Magician by Charlie N. Holmberg – 3 Stars
Stripped Bare by Heidi McLaughlin – 2.5 Stars
I am Number Four by Pittacus Lore – 2.5 Stars
The Star-Touched Queen by Roshani Chokshi – 1.5 Stars
Just Listen by Sarah Dessen – 5 Stars
The Archived by Victoria Schwab – 4 Stars
The Sleeper and the Spindle by Neil Gaiman- 4 Stars
The Lightning Thief by Rick Riordan – 4 Stars
Midnight Action by Elle Kennedy – 5 Stars
Midnight Lily by Mia Sheridan – 4 Stars
Madly by Ruthie Knox – 4 Stars
Midnight Captive by Elle Kennedy – 3.5 Stars
Bait & Switch by Kendall Ryan – 1.5 Stars
I didn't include A Shadow Bright and Burning in my count because I didn't even make it halfway through. And there's no review for The Sleeper and the Spindle because I haven't written one yet.
Out of the ones listed above, here are the five which were the most memorable to me (in no particular order, since it's hard enough to do it at the end of the year):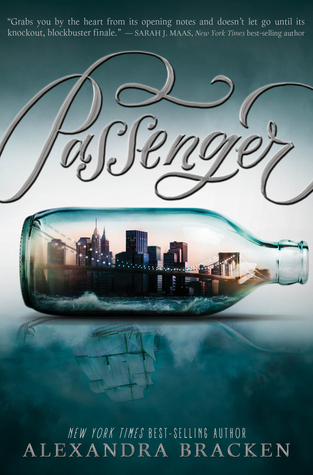 Passenger by Alexandra Bracken
It's got pirates and time travel. That, alone, is super cool. Then you add in the danger, the action, the compelling and likable characters, and present them in a well-written novel that's part of a duology. There are few things that I find more awesome.
Loved this book, and I'm so reading the sequel this month.
Do Androids Dream of Electric Sheep? by Philip K. Dick
I can't tell you enough about how much I love the name of this book. It's the most brilliant name in the history of naming things. And then there's the book, which is most peculiar. Set in the future, following a bounty hunter who hunts escaped androids who can only be accurately distinguished from humans by a bone marrow test. And the bounty hunter finds himself wondering what makes androids so different from humans. A very through-provoking read.
The Lightning Thief by Rick Riordan

This was a reread and I was basically fangirling the whole time. Meeting 12-year-old Percy, him finding out he's a Greek demigod, then the quest, the humor, the prophecy, the sass, Annabeth, everything.
But even if I were reading it for the first time, I would still love it because this is a wonderfully written, action-packed book with a great story and an epic narrative. What more could you ask for?
This is the first book I've read by Sarah Dessen and it's set the bar of expectations quite high for the rest of her books; because despite having many flashbacks (which I usually can't stand) and a bunch of characters to juggle, this was still a book that flowed brilliantly. I loved the character developments, Owen, the family dynamic, the writing… basically, everything.
The Archived by Victoria Schwab
Victoria Schwab (or V.E. Schwab) is one of my favourite authors. She creates very unique and intriguing worlds that suck you right in. Every book that I've read by her so far has been great, this one included, and they're all quite different.
What made this one different was the tone. It had such an eerie quality to it; you could see a horror movie playing in your head. Loved it.
And that's are all for the month of March. Now I can focus on April. Preparing for next month's exams and reading 20 books… Let's see if I can do it.