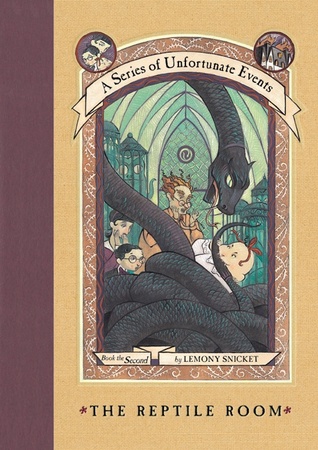 Genre: Childrens/Middle-Grade, Fantasy
Pages: 192
Series: A Series of Unfortunate Events #2 (series of 12)
Release Date: August 30, 1999
The Reptile Room, like the first book, The Bad Beginning, starts off with a letter in which the narrator warns the reader that this is a book which is not-at-all cheerful, and in which bad things happens to the three main characters, the Baudelaire children.
The format of the novel is very similar to that of the first book. The kids find themselves in some unfortunate situation, the stupid adults don't pay any heed to their concerns, so the kids try to use their cleverness to work things out, with mixed results. The narrative is, same as before, a blend of humour and the way one would talk to a kid while telling him a bedtime story.
Where the book differs from The Bad Beginning is it's darker theme. I know the narrator warned us, but that was in a I'm-using-reverse-psychology-to-make-you-want-to-read-te-book-even-more way.
Where the first book usually deals with insinuations of evil deeds, this one's got straight-up murder. But, you know, children can be quite resilient; so I went and asked my mom if she would give a seven or eight-year-old a book in which someone is murdered. Her answer was along the lines of "No way in hell". And so we find ourselves in a bit of a conundrum.
One one hand, the darker theme would be great for middle-graders. But on the other hand, they would probably find the narrative to be condescending. And this is a childrens book. So while I personally liked the book fine, I'm not sure who I would recommend it to. Probably teenagers and adults who also enjoy reading younger narratives.
If you've read this book, I would really like to know what you think.