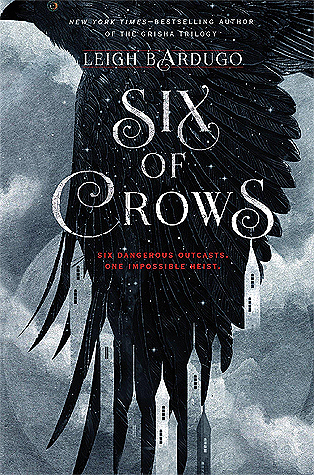 Genre: Young-Adult, Fantasy
Pages: 462
Series: Six of Crows #1 (Duology), Grishaverse
Release Date: September 29, 2015
Even though I finished reading the novel almost a week ago, it's taken me this long to finally get to the review because a) I couldn't seem to come up with anything to write. I loved the book, but I wasn't sure how much, and b) I couldn't think about it without also thinking about how much I wanted to read the sequel.
Now, I've read the sequel and it was, as usual, a terrible idea (not because the sequel was bad). You never read the sequel before writing the review, I know that. It creates the ultimate bias. But what's done is done. And now I'm gonna keep things short.
Six of Crows is set in the Grishaverse (the world of The Grisha Trilogy) but follows a different cast and is set in a different nation. There are six main characters, all thieves or criminals and basically dregs. Kaz Brekker is one of them and he's approached by a very rich merchant to perform and impossible heist. In order to get the job done, he needs the right crew. And that's where the other characters come in, forming a band of misfits who are likely to kill each other before they even start the job because they seriously do not get along.
Some of the characters know each other already while others are close to strangers. All have their strengths, weaknesses and agendas. And since this is, hands down, my favourite trope, I was really freaking excited. I love the 'band of misfits' thing. And in this case, it was done really well.
For one, Leigh Bardugo, is a very good writer. The Grisha world is hella awesome and this new cast is the best. Kaz Brekker is a self-proclaimed monster and he is just so brilliant in his schemes… Smart people are my weakness and he's very smart. Inej is strong, highly skilled and awesome. Jesper is the fun sharpshooter who's also addicted to gambling and prone to losing. Nina and Matthias have a history and very different personalities while Wylan is basically the odd one out; he's cute, all innocence and blushing. Overall, an interesting team.
The main plot regarding the heist keeps you on your toes, the pace is fast, and the story gripping enough that the book is very difficult to put down.
This was a great addition to the Grishaverse and I highly recommend it. I'd say I can't wait for the second book, but I've already read it so… you get the picture. Read this book, if not for the story then, for the cast.