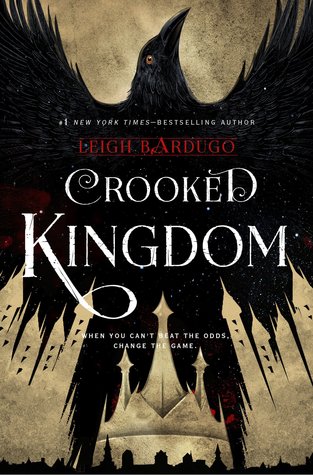 Genre: Young-Adult, Fantasy
Pages: 536
Series: Six of Crows #2 (Duology), Grishaverse #5
Release Date: September 27, 2016
This is the highly anticipated sequel (and by "highly anticipated", I mean that I had to wait four whole days to read it and they were very difficult days) to Six of Crows and is also the conclusion to the series.
In the end of the first installment, Van Eck (the bastard) cheated our fabulous crew out of their hard-earned money and kidnapped Inej. Obviously, Kaz was unimpressed and has now sworn to get Inej back and to annihilate Van Eck, after which he will focus on slowly annihilating Pekka Rollins (Kaz clearly doesn't have many hobbies).
The novel starts with out crew in hiding. They're making plans while also trying not to die, or to lose the precious cargo they freed from the Ice Court.
Now, there are many reasons to love this book. And they're not surprising reasons because I loved the first book as well and this one is quite similar, so I'm just gonna go through them.
The biggest reason is the characters. All six of our protagonist are so awesome and likable in their own ways. Each person has his/her own arc and they're all handled together brilliantly. My two faves are, to no one's surprise, Kaz and Inej. Kaz because he's so freaking smart and complex, and Inej because she's wise, badass and all-around freaking amazing. I love all the characters so much that, even though I love duologies the most, I wish there were more books in the series because I'm in no way ready to say goodbye to them.
The other reasons for loving the book are the story, the relentless pace, the Grishaverse, how well it's written and the perspectives balanced.
But unlike with book one, there are also reasons to not love the book. One of them being something I mentioned above: it's very similar to Six of Crows. And while that's not a bad thing, I wish there was something to distinguish it more. For example, I wish it has less moments when the chapter ends on a point that makes us think 'oh no! the plan is failing!' and then we find out that no, that was actually part of the plan.
It's a trick that works the first couple of time, which it did in the previous novel, but afterwards becomes predictable. I feel like the author was trying to prove how smart Kaz is. Except, she doesn't need to. We know he's smart. Let's focus on something else.
Other than that… something happened later on in the novel that should have invoked a lot of emotion (chapter 40, for those who've read the book) but it didn't. I was actually pretty 'meh' about it. I'm not sure why. Maybe because it was so anticlimactic and… pointless; it happened just for the sake of happening. Or maybe I felt that things would be fine sooner or later (which bothers me because Hello! that happened!).
Anyway, I'm sorry for the paragraph that didn't make much sense to those who have yet to read the novel. This is actually a very good read. I don't have to tell you whether or not I recommend it because if you liked Six of Crows, you're gonna read this one no matter what I tell you. But still, it's a good conclusion. I just hope we get to meet these characters again at some point.