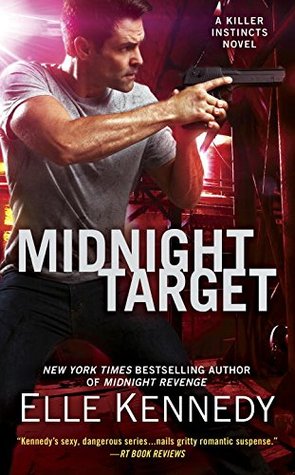 Genre: Romantic Suspense, Adult
Pages: 443
Series: Killer Instincts #8
Release Date: April 25, 2017
This novel can be read as a standalone but I seriously think you should read the others. If not all, then at least a few of them. Book 1, 5 and 7 are, I think, the most important for this one.
Midnight Target had a lot of expectation attached. It's a romance novel and an action novel. It's got, not one, but two romantic arcs. On top of that, it's also the last book in the series while also being a standalone. Even thinking about all that makes me nervous, and Elle Kennedy has managed to balance all these things so well…
And don't even get me started on the fact that she had to do Sully and Liam's story justice. Seriously, Elle Kennedy had been teasing their book since Midnight Pursuit, which is book 4. I love Liam and Sullivan and I was dying to finally get their book. Sure, I cared about the other couple, Cate and Ash, as well. But Liam and Sully are my favourite couple of the series, right up there with Kane and Abby (Midnight Rescue).
But anyway… this series follows a team of mercenaries led by Jim Morgan. Four years ago, Morgan was finally able to find his estranged daughter. But his overprotectiveness kept driving her away. She's now a freelance photographer, and when her job lands her in trouble, Jim is there to help. But he gets gravely injured in the process. Now Jim's entire team are rallying for payback, including Liam Macgregor and Sullivan Port, who were once best friends and will meet again after two years and address all the things between them, that they didn't before.
And I'm gonna be honest here, before starting the book, I didn't much care for Ash and Cate. I was interested, but not nearly as much as I was in Liam and Sully. But after I started reading, I was surprised to find that I cared about them and their relationship almost as much as… you know who.
I've already said that all the various elements of the novel were very well-balanced but I'm elaborated a little. Both the romances were given their time, all the different perspectives were well placed, the pace of the story was really good and I couldn't put the book down. Seriously, I'm reviewing the book now, but I read it the day it came out, in one sitting. And then I read it again the next day. And then I went through every scene with you-know-who about two more times.
It's just, the scenes with Liam and Sully were just so great! How could I not read them over and over? With Ash and Cate, I felt that their initial conflict was a tad stretched, but not much. I just wish we'd gotten more of you-know-who. Clearly, I have an obsession.
Overall, I loved this last installment. The book was brilliant and wrapped the series up really well. I read the epilogue like half a dozen times. I'm very happy with how the series concluded. That said, can't we get a few more books? Pretty please? I'm really gonna miss these characters and I highly recommend that you give them a shot. They, and their stories, are all so totally worth it.