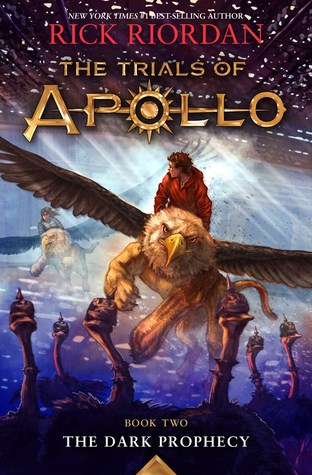 Genre: Middle-Grade, Young-Adult, Fantasy, Humour, Mythology (Greek)
Pages: 432
Series: The Trials of Apollo #2
Release Date: May 2, 2017
This book is 432 pages long? I read an e-book so I didn't know the page count, but I do know that it sure didn't feel that long. It actually ended really quickly.
But I guess that's what happens when a book is so much fun that you're surprised the book also had a plot. Because plots are supposed to be the boring, or interesting, parts of a novel with some fun squeezed between them. The whole thing can't be fun! That's just not possible. But uncle Rick proves one again that he is awesomeness personified. Because this book… is wonderful.
For one, we have Apollo's narrative, which is filled with his all his numerous whinings that usually start with "when I was a god" or "if I was a god" or "when I become a god again". Seriously, that dude is so not adjusting and it's hilarious to read. Apollo is narcissistic, self-absorbed and would use you as a shield against monsters, but he's still so likable. And he's also learning, much to his disgust, to be selfless. I love the guy and I love his narrative.
Then there's the fact that this series is almost like an epilogue for the Percy Jackson and the Heroes of Olympus series, giving us moments of closure with all the old characters one by one, while also introducing new characters, and mythical figures and creatures.
There is honestly so much going on and I don't know how Rick Riordan is balancing all of it. The writing is very clever too, so there's something in there for people of all ages. I feel like Rick Riordan is highly underappreciated because everyone just considers him the "fun" writer, as if it's not masterful the way he balances multiple characters, storylines, humour, emotion, characters development, adventure, action and backstory so brilliantly. People seem to equate good writing to serious writing with as little entertainment as possible. And that makes me very sad.
Thankfully, whenever I'm sad, I can just reread a book by uncle Rick and comfort myself with the knowledge that I appreciate him very much.
Anyway, I got off topic there. Lets get back to the book. I love it. Maybe even a little more than The Hidden Oracle because we got even more into the character of Apollo and there was an emotional arc with Meg (thanks to Nero, the turd) that made me finally like the character, where I was a bit iffy about her before.
Overall, this book was everything I wanted from the sequel and I can't wait for the next part to come out. I'm going to leave you with the first haiku from the novel, because I love it:
Lester (Apollo)
Still human; thanks for asking
Gods, I hate my life
P. S. Just now noticed that I didn't mention the plot. Though you probably know, still, it's follows Apollo, Leo and Calypso as they head off on Festus to search for Meg, the second Roman emperor, and another old oracle that the Triumvirate has control of.