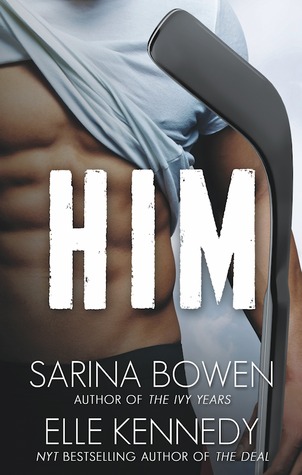 Genre: New Adult, M-M Romance, Contemporary
Pages: 360
Series: Him #1 (Can be read as standalone)
Release Date: July 28, 2015
I'm going to be reviewing in a hurry for this one because there's a sequel that follows the same characters (even though this was a complete novel) and I want to know what it's about and if it's one that I'll be reading. But I'm not allowed to read anything about that novel before I review this one. So here goes nothing…
This is the story of Jamie and Ryan. They were best friends for six years, meeting every year at a hockey camp, until something happened which crossed the line of 'just friends'. This caused Ryan, who was in love with his straight best friend, Jamie, to cut him out of his life. Now, four years later, they meet again at a tournament. Ryan is still hung up on Jamie, who may not be as straight as they'd assumed.
Obviously, sparks fly and all that. There's a lot of flirting and a lot of (HOT!) sex. But what's surprising is that there's also a whole lot of friendship; because Wes (aka Ryan) and Jamie were friends first and foremost. And that friendship meant a lot to them both.
So even as we venture into the realm of romance, there are many fun times when they both just joke around and connect. They love, trust, and care about each other, and it's absolutely wonderful to see their relationship. Jamie, Wes and their relationship were the highlight of the novel, as they should be, and consistently engaging. I was very invested in them. That's actually one of the reasons I'm so wary about the sequel. This is such a complete and finished story for me, and I'm not sure I want to risk ruining the perfect way things are at the end.
That aside, the writing was great, as I've come to expect from Elle Kennedy. And I think I might have to check out more stuff by Sarina Bowen as well. The story was brilliant. This isn't a small book (took me 7 hours) but it's all worth it.
Another thing I loved was how the LGBT angle was handled. We've seen many books about the struggles of coming out but this was a different take. It delved into acceptance of oneself and the long term backlash of what happens after you come out. Even if you're accepted by your friends, there are so many situations when you have to be careful, when you might feel unsafe from those who "disagree" with your sexuality. It's a very mature take. Neither Jamie nor Wes are kids. Their worries extend to how their professional lives will be impacted. I loved the direction the authors chose and how they represented it.
Overall, this is a wonderful, enjoyable, heart-warming and just… an awesome book. I highly, highly recommend reading it.