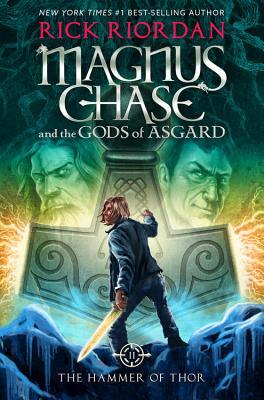 Genre: Middle-Grade/Young-Adult, Fantasy, Mythology (Norse), LGBT+
Pages: 471
Series: Magnus Chase and the Gods of Asgard #2
Release Date: October 4, 2016
Publisher: Disney-Hyperion
You know those rare moments when you're in the mood to read a very specific kind of novel and then you find it and read it and everything is completely awesome? Yeah, that happened to me, and I can't tell you how great it feels.
You see, I saw a map somewhere and there was a place labeled 'Bali' on it. That made me think of the Bali from Norse myth (Norse mythology doesn't have a Bali; his name is actually Balder; Loki killed him) which made me want to read a very specific type of Norse mythology-related book. Then I realized that I hadn't read Hammer of Thor yet so, on a whim, I paused my current read and picked this one up. Cue the best one and half day of the month. I never wanted the book to end.
It did end, obviously, and now I have to wait for the next, and last, book of the series, but that doesn't take away from how much I enjoyed reading it.
The book picks up six weeks The Sword of Summer ended. Magnus has had time to adjust to being an undead warrior and has had some training. But while he was acclimating, bad stuff was still going down in the nine realms. Loki is up to his evil schemes again (when is he not?) and the giants are preparing to invade Midgard. The only way to stop them is with Thor's hammer, which is still missing. So Magnus has to find the hammer before the giants destroy the world, while dealing with whatever Loki is up to. Easy peasy, right?
Yeah… not so much. But he's gonna try his best. And he, of course, has lots of help. The old gang is back together!
We have Blitzen and his fashion expertise, Hearthstone with his rune magic and his uncanny ability to make everyone want to "wrap him in a blanket and shield him from all the bad in the world" (that's a quote from a comment left on my Sword of Summer review on GR), and Samirah with her Valkyrie brilliance. There's also a new character, Alex, but I want you to get to know this character yourself, so I won't comment.
But yeah, everyone's on a mission, the narrative is fun and hilarious as always, the characters are wonderful, the pace is relentless and the story is endlessly engaging. On top of that, Loki is so freaking awesome. I mean, he's evil but he's so clever that you can't help but love him even though you kinda hate him too.
So, if not for all else, read the book just for Loki …And Magnus's haircut. I don't why, but I can't get over the fact that Magnus got a haircut and Thor got one as well in the upcoming movie, Thor: Ragnarök); so now, in my head, Magnus looks like a younger Chris Hemsworth. I know that's not relevent to the novel but it just keeps popping up in my head. My head's weird.
Overall, I realize that half of the review was just me rambling but I'm hoping it was enough to convince you (if you even need convincing) to read the book. If not, read it anyway.
P.S. I forgot to mention Jack, the talking, flying, and singing sword, who is totally get back into the dating scene in this novel. You can't miss that.