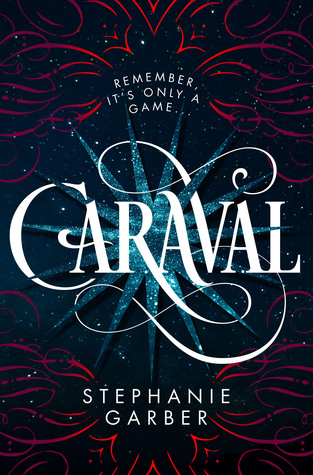 Genre: Young-Adult, Fantasy, Romance
Pages: 407
Series: Caraval #1 (Can be read as Standalone)
Release Date: January 31, 2017
Publisher: Flatiron Books
Were you to read this novel in one sitting, and very quickly, without giving it too much thought, I'm pretty sure that you'd love it. And I don't necessarily mean that in a bad way.
This is a novel that's all about the fantastical aspect and not much about the details. The prose is very pretty and, contrary to what I've come to expect from books with pretty (aka purple) prose, it's not pretentious. The pace of the novel is good and it's not difficult to be engaged in the story. The author has put a lot of effort into making it magical and unexpected, and it shows. This is not a book that you would want to put down. But if you do put it down and just think about it for a while, the magic start to flicker and fade.
Seriously, if you're invested, you might not even notice that there's absolutely no world-building to be found other than a few short paragraphs about conquered isles, that I barely remember. We're never told what really happened. But before I get into that…
Caraval is a circus/carnival of sorts, but more of a game. In the beginning, it's mentioned that the Caraval only takes place once a year and at one place, one time. It's a magical game that, if you win, you get a prize. The protagonist has wanted to go there her entire life. Wanted it almost as much as she wanted to escape her cruel father, with her sister. When she finally gets that opportunity, she has to decide whether she's willing to risk her father's wrath to go.
Obviously, she does reach the Caraval. There, it turns that the game is to find her sister, who's been kidnapped. Dun dun dun…
Caraval is on an island. What that island is, we don't know. How come one person owns and controls it, we don't know that either. We don't know anything, really. Like if the island is such a huge secret, how do people know of its existence? What's the story of the island? What about the people of the island? If the Caraval master owns a fucking island, then why does the Caraval travel at all? Does it even travel? Because after those first few chapters, no one even mentioned the travelling part. Basically, the book is a stereotypical blonde; very pretty, but with no real substance.
And I can't help but think that the author was trying to achieve what Erin Morganstern did with The Night Circus. It feels so much like it. But where the Night Circus was truly beautiful and magical, this is ephemeral.
The characters too, not much to them. The MC, Scarlett, didn't have much of a personality beyond worry for her sister and fear of her father. Other times, she is what the plot demands her to be. Julian, the love interest, is the typical bad boy with heart of gold, who has secrets. He's the love interest. The sister, Tella, I fucking hate. I can't tell you why (NO SPOILERS!). But I just LOATHE her and all the shit she pulled, which Scarlett just overlooked.
The plot could have been interesting. It involved looking for, and solving, clues to win the game. But the clues were all solved by accident. There was no brain-work to be seen.
The romance, I felt, had a good starting point. But it became a rushed, insta-lovey mess very soon. The final 10-15 percent I hated. The were many character motivations and revelations that were very stupid. The epilogue was… intriguing, but enough to read the sequel? I can't say for sure. It's not coming out until next year anyway so I don't have to decide right this second.
Overall, this wasn't a novel that particularly bothered me (other than the shit with Tella) and I did enjoy it in a superficial way, but I can't recommend it. It's not very good. Honestly, read The Night Circus.