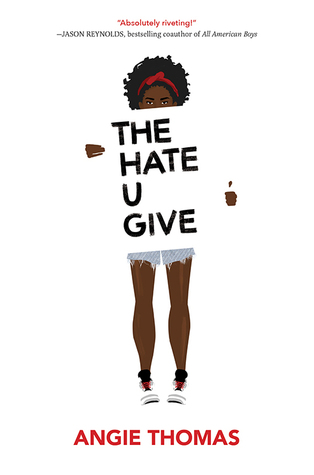 Genre: Young-Adult, Contemporary
Pages: 444
Series: None
Release Date: February 28, 2017
Publisher: Balzer & Bray/Harperteen
The Hate U Give is arguably the most well received novel that has come out this year so far. It tells the story of a young girl whose childhood best friend is shot and killed by a cop right in front of her for no other reasons than that he's black.
Seeing this happen, the balance between the life Starr has in her poor black neighbourhood and the one she has in her suburban prep school, is disturbed. The reality of prejudice against her race, her colour, becomes more glaring than ever and Starr struggles to understand what the right thing to do is. Soon, Khalid's death is headline news and people accuse him of being a drug dealer and a gangbanger, as if that justifies a sixteen-year-old, unarmed boy being murdered for no reason.
The efficiency with which Khalid's death is justified and covered up is astounding. Saying that the cop was afraid for his life as if it's okay for a man in his late thirties to kill a child because he was spooked; a child who gave no reason for the cop to even suspect that he might have any ill intentions. But just because he's black and lives in a poor neighbourhood, he obviously couldn't be up to any good.
I won't lie, in the beginning I didn't want to believe that a police officer would just shoot someone like that. I hoped that maybe there was another reason for why it happened because no one wants to think that the people who are supposed to keep us safe could also be a danger to us. Honestly, will Starr ever be able to trust the police after that? She knows that not all officers are bad because her uncle is one of the good ones, but still. Her world has been shaken completely.
This was a very heartbreaking novel about the hate that society gives those that are deemed inferior, and how that hate never has good consequences. It's an endless, vicious cycle and the book takes us into the midst of that reality in the best way possible.
Things could have easily turned into hate for all white people and you can see how carefully Angie Thomas balanced the novel to avoid that. She gave us good and bad characters, irrespective of their race. Some characters to be redeemed and others not. Starr's family dynamic was beautiful. I freaking LOVE Starr's mom but I liked her dad, her uncle and her brothers as well. She had an interesting dynamic with her friends, ones from her neighbourhood and ones from school. Her boyfriend, Chris, was a great addition and we got some really sweet moments. There were sweet and funny moments with everyone that stopped the book from becoming too heavy.
Overall, this was a beautiful and wonderful book that I think is a must read, especially if you live in the US because that's where its set, but its significant for everyone. I also have a little video that I think you should watch. It's titled 'Racism in the United States: By the Numbers'. It's by the vlogbrothers (John and Hank Green) and less than 4 minutes long. Check it out.