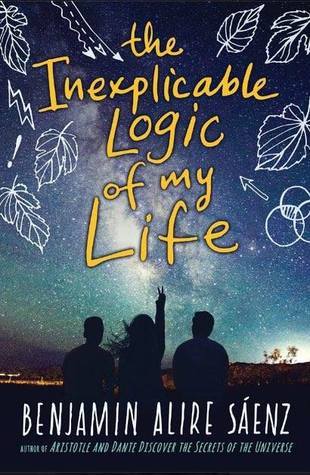 Genre: Young Adult, Contemporary
Pages: 452
Series: None
Release Date: March 7, 2017
Publisher: Clarion Books
I'm going to kick this off by saying that I haven't read Aristotle and Dante Discover the Secrets of the Universe. It's sitting on my shelf and I still want to read, but after this book, I'm less certain that I'll like it as much as most people did.
This book tells the story of Sal, who's being raised by a single, gay, adoptive father. He's probably the best father anyone could ask for and has raised Sal to be really nice guy. But lately, Sal has been feeling some not-nice things that have made him wonder if he's more like his birth father (who he's never met). Sal has two friends, both of whom are going through a tough time with their families.
And that's all there is to it. It's about Sal's family, his best friend Samantha's family, and his other friend, Fito's, family. And the writing style is not my favourite.
It's simple prose. It used small sentences, and it states things. There are few other punctuations. Except full-stops, and commas, and maybe conjunctions. That makes feeling emotions difficult. It's hard to immerse yourself in the story, and in the characters. You don't feel much connection to them.
And yes, that was a sample, with me using small sentences. You might notice that it comes off as a little stilted. A combination of this prose and the chosen format of very short chapters, meant that it took me forever to actually care about anyone, or anything that was happening. I'd gotten halfway and I was still having trouble getting into the book. All of this was definitely not helped by the lack of emotion in the writing and the lack of an overarching storyline. For example, there's a paragraph in the book:
Books make sense. People don't. You know, like life. All these things happen, and they're not connected. I mean, they are and they're not, and it's not as if my life or your life—it's not as if our lives have this plot, you know?
When I read this, I couldn't help but think that Sal would be very satisfied to know that his book was exactly like real life because it didn't have a plot either. But not because stuff didn't happen. A lot of things did, only the writing didn't put much weight on them so it felt like nothing was happening.
While having said all of that, this is not a bad book. The writing style didn't work that well for me but it might for other people. And I actually enjoyed the last 200 pages. I finally got used to the way things were going to be. This is a novel that wants to show real life, where things just happen and there's not definite plot. It's also a coming-of-age story for both Sal and Sam, maybe even Fito a little bit. It's a good story. I just wish it had been presented in a more lively manner so that maybe I could have enjoyed it.
The characters, which the book relies heavily on, were okay. Sal is mostly neutral and I don't have much to say about him. Fito, I liked. I liked his arc too. Sal's dad was great. Sam, I didn't like. In the beginning, I found her to be judgemental and meddlesome. Not to mention, pushy. She grew up a lot in the novel but she never truly grew on me.
Overall, this is a book for lovers of contemporary and people who don't mind mellow reads. I love contemporaries but I found it to be a bit dull. I think, had I been aware of what I was going into beforehand, I might have enjoyed it more. So if you're someone who loves action and excitement and adventure, if you're not good with a slow pace, then I don't think this is one for you. It's also too nice, something that bothered me. There's a scene about how drug addition is a disease and you shouldn't judge people for it, and it irked me because it's also a choice and if someone's parent choses that addiction over them, then they get to be judged.
So yeah, beautiful thought behind it and a lot of characters development. But also too nice and kinda boring. If that's something you might like, got for it.