This is going to be a fun little post. I'm not a huge crier. Sure, it's not uncommon for me to shed a tear or two, but actual crying? Not that frequent. But there are still a few books that have made me legit sob. For the list today, I've picked two of my recent reads and one that just stands out for me when it comes to the books that have made me cry.
1. We Are the Ants by Shaun David Huchinson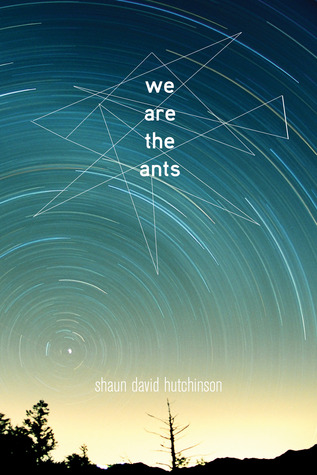 Finished this just a few days ago. I'm behind on my reviews though, so it's not on the blog.  It's about a guy who has a sucky life, made worse by the fact that he frequently gets abducted by aliens. Then the aliens tell him that the world will end 144 days but there's a big red button he can press to save it, if he wants to. So he's trying to decide whether the world is worth saving and it's one of the best things I've ever read. It's also completely heartbreaking a lot of the time, which somehow makes it even better. I love this book. It will make your cry but it'll be worth it.
I feel like I bring up Uncle Rick a lot. It's just that… I love his books so much. He has the best characters and the most entertaining books. They're so fun; which is ironic considering the title of this post. But that's why he's probably my favourite author. This book is fun. It also made me cry for 30 minutes. Hands down the saddest book in the series. Actually, saddest book by the author. And the worst part is that I knew something terrible was going to happen because Uncle Rick freaking told us before the books even came out. Rick Riordan is kind of evil.
Speaking of 'knowing something terrible was going to happen', something goes down in this book. Something really bad. And you see it coming from a mile away because the author keeps hinting at it. But when it happened, I still had to put the books down so I could sob for 20 minutes. It was bad. And the reason it stands out is because the book wasn't even trying. There was not emotional prose or anything. It just hurt. It still hurts. And it always will. Oh, the joys of reading…
And that's it for this list of sadness. Shoutout to The Fault in Our Stars by John Green, for being the first book to make me cry, many years ago. And to Making Faces by Amy Harmon, because it's another book that will always hurt.
Leave a comment about a book that made you cry. Everyone has at least one, right? And you can check out the post by this T3T's creator, Acosyreader here.