First of all, sorry about the absence of reviews for the past ten days. I've been in a slump of sorts (of the I-don't-want-to-do-anything variety) and am currently in the middle of an N.R. Walker binge. Because reading her books is pretty much the only thing I feel like doing. Like, I don't even wanna binge-watch White Collar! That never happens. I'm hoping that, by the beginning of next month, I'll have my head on straight.
For now, let's focus on the new releases June has to offer. This time books covers are linked to the Amazon page while book names are linked to Goodreads pages.
The Speed of Sound by Eric Bernt – June 1st
Harmony House is a think tank where high-functioning autistic savants harness their unique abilities for the benefit of society. Eddie Parks's contribution is nothing less than extraordinary: an "echo box" that can re-create never-recorded sounds. All Eddie wants is to hear his late mother's voice. But what he's created is inadvertently posing a threat to national security and as ruthless competing enemies close in, Eddie Parks will have to run to save his invention from the world, and the world from it.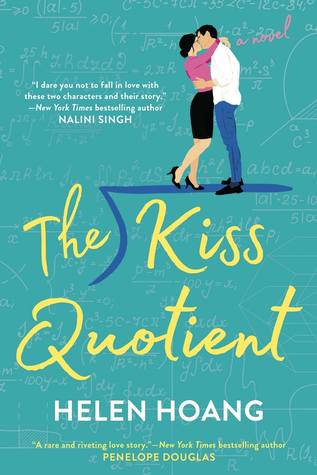 The Kiss Quotient by Helen Hoang – June 5th
Stella Lane is a math genius whose job has earned her more money than she knows what to do with, but way less experience in the dating department than the average thirty-year-old. It doesn't help that Stella has Asperger's and French kissing reminds her of a shark getting its teeth cleaned by pilot fish. Her conclusion: she needs practice. Which is why she hires escort Michael Phan. Before long, Stella not only learns to appreciate his kisses, but to crave all the other things he's making her feel and theirs no-nonsense partnership starts to make a strange kind of sense.
Every Exquisite Thing by Cassandra Clare and Maureen Johnson – June 12th
The third novella from the Ghosts of the Shadow Market.
Anna Lightwood, eldest child of Gabriel and Cecily, is mad, bad and dangerously dapper. Every rake has an origin story, though: now under Brother Zachariah's eye we see Anna's doomed love story unfold.
A Reaper at the Gates by Sabaa Tahir – June 12th
This is the third book in the Ember Quartet.
The first book follows Elias, an unwilling soldier, and Laia, a girl willing to do anything to save her brother, even become a spy for the rebels of the Martial Empire. Elias and Laia's destinies are intertwined and their choices may change the fate of the Empire.
The Mermaid by Christina Henry – June 19th
Once, a mermaid who longed to know of more than her ocean home was trapped in a fisherman net. He couldn't bear to keep her but his eyes caught her more surely than the net, and so she evoked a magic that allowed her to walk upon the shore. The two lived happily for many years, until one day the fisherman rowed out to sea and did not return.
The Mermaid, softened by her first experience, agreed to play a mermaid for P.T. Barnum's museum. She believes she can leave any time she likes. But Barnum has never given up a money-making scheme in his life, and he's determined to hold on to his mermaid.
Moonlight Seduction by Jennifer L. Armentrout – June 26th
This is the second book in the de Vincent series. Each tells the story of one of three de Vincent brothers. This time, it's Gabriel.
Gabriel spent years beating himself up over his last encounter with Nikki Bresson. He'd wanted her then, but for reasons that were bad for both of them. He broke her heart. Now she's back and things have changed. Gabe sees the smart, talented, and heartbreakingly beautiful woman she's become… one who's being stalked from the shadows. Now, Gabe will do anything to keep Nikki safe—and to stop the de Vincent curse from striking again.
And… that's the end of the list. Only six, I know. But when you consider the fact that each book in these lists goes on my ever-elongating TBR list, six is a lot. Especially since I seem to suck at reading these books. But that's kinda okay because I've decided that TBRs are to ensure you always have a book to read. Completing them is optional.
What are some of next month's releases you're most interested in? And is there any specific book from this list you want me to review? Because that might motivate me to read it sooner and I shall be ever grateful.