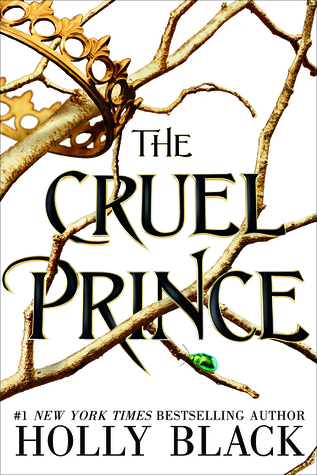 Genre: Young Adult, Fantasy
Pages: 384
Series: The Folk of the Air #1
Release Date: January 2, 2018
Publisher: Little Brown Books for Young Readers
This one took me a while to get in to. But not in the way it usually takes me a while. This book wasn't slow-paced or overcomplicated. We didn't find info dumping and it was actually interesting and easy to get through. It took me a while to care. About the characters, mainly.
The book's namesake, the "cruel prince" was kind of useless for most of the book. In fact, I'm pretty certain the book is only called that because of what Carden, that's his name, represents to Jude, the protagonist. And you could say that Jude is the main reason I had problems.
She's not a bad character; she's very well-written, but not my kind of person. You know, the kind of person I could get behind or root for. The main reason for that is that she's not yet the person she's supposed to be. It's easy to get mad at her for some of her really rash decisions. And it's easy to dislike her for her flaws. I did dislike her for her flaws and bad decisions, despite coming to know the reasons behind everything.
Jude hasn't had a good life. She was only seven when she and her sisters were taken away to faerie to live with the man who'd just killed both her parents. And while some people might find a way to overlook the nature of the court, she couldn't ever forget the reality of her situation.
Faerie is terrifying place full of dangerous and deceitful creatures. A young mortal, despite the protection of her new "father", is still susceptible to fae influence, and Jude spent a decade living in fear and helplessness. But she doesn't want to escape faerie. She wants to fit into the world and she wants enough power that no one will ever be able to use her like a toy. After so many years in fear, she's kind of… unraveling. The only solution in her mind is to become powerful by any means necessary. Which leads to some poor decisions.
She needs time to come into herself and we see characters development throughout the novel. And I have a feeling we'll see a lot more in the upcoming books. But anyway, maybe because of her lack of likeability or maybe because of the setting-up-for-the-end-and-sequels nature of the novel, it wasn't until the final third that I started to get excited about stuff.
Don't get me wrong, I was still happy reading it. This is a well-written novel and the world is quite fascinating. I just wish that we'd gotten more deceit and cleverness. But so much setting-up was to be done that we didn't get truly involved in faerie until near the end. And then the book ended, which was a total bummer because I was really liking it. All the different aspects that'd been set up were coming together, I was getting more into the story and the characters and now I have to wait a year (maybe more) for the sequel. *frowny face*
As a whole, this was a good book and I have a very good feeling about the rest of the series. I'm excited to know what will come next and, even though I didn't like it as much as I'd hoped, this was still a good read.