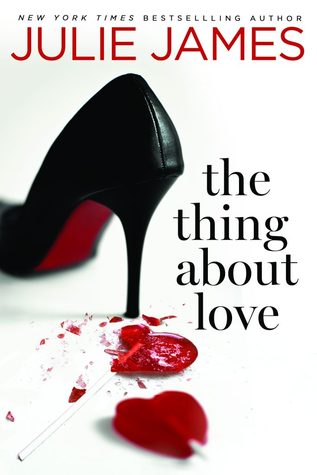 Genre: Adult, Contemporary, Romance
Pages: 373
Series: None (but I've heard it has cameos from other Julie James characters)
Release Date: April 18, 2017
Publisher: Berkley
I have a lot of negatives to discuss. But because they're either small or don't always affect the overall enjoyment much, they don't have a huge impact on the rating. Synopsis first:
Both Jessica Harlow and John Sheppard are FBI agents. They also have a past. They were both in the same class in the Quantico training academy and did not get along. And even though it's now been six years, when Jessica transfers to the same office as John, it's not good news. What's worse is that they've been assigned as partners in an undercover sting involving a corrupt politician. So now they have to work together, without strangling each other.
The reason John and Jessica didn't get along in Quantico is one that we find out via… wait for it… backstory. And if you know me, you know how much I fucking hate those.
In this case, we got two chapters, one from Jessica's perspective and one from John's. Combined, that made like 30 pages of backstory. And what was worse was that half of John's chapter was the same as Jessica's, just from a different perspective. I get that the author wanted to show how they each saw each other, but it still meant that I had to read thirty pages of backstory, some of which was repeated. And I swear to you, I almost died.
Thankfully, that made up less than 10% of the novel. The rest of it was in the present and while they did talk about the past, that's not something that bothers me.
As for the present, I liked it. The banter that the book promised wasn't entirely there but I did have fun with the two characters. They had chemistry and things were sweet. I liked how the dynamic between them changed slowly. The relationship was based on mutual respect and equality. I liked John as a character and I was okay with Jessica, but I had a few problems with her.
Jessica is described as a "saucy" person. She's all about the quips and sarcasm. And usually, I would love that. I live for sarcasm. But she never took anything seriously. And she used quips to deflect. We were told how their past rivalry was a result of misunderstandings and faults on both sides. And where John apologised for his actions, Jessica simply joked or changed the subject. She never got perspective about what happened in Quantico. It got to the point where she was no longer sassy, but immature; never accepting her flaws and always making light of serious situations. Like, sweetheart, you're a thirty-two-year-old FBI agent, don't you think it's time for you to grow up?
She was bothersome, and the word "saucy" got old. What helped out was the FBI stuff. The case they were handling was simple enough. A mayor who was accepting bribes in exchange for some mayor-ly help. And while there were some readers who didn't like the amount of time spent on the case or the amount of details about the FBI, I really liked those.
The focus on the romance wasn't heavy. We interacted with some others from the FBI, and with both John and Jessica's family and friends. John's brother was a brilliant addition. He was really funny. Kinda wish he'd been more present even though he showed up quite a few times. John's dynamic with his dad was interesting. Jessica's older brother and sister ware funny. It was nice that we got to know some of the people in their lives. But I wish we'd gotten more resolution about John's ex, who, in the very beginning, he found out was cheating on him.
Also, I found it strange how little an impact John's break-up and Jessica's divorce has on their relationship. The main conflict was just always about the fact that John was moving away for a different job, and the effect of their previous relationship was minimum.
Last thing to discuss: the word/phrase that was even worse than "saucy". Well, not worse, per se, it just showed up way too much. And that was "undercover" and "undercover agent". You know how many times the world "undercover" was in the novel? 151 times. And "undercover agent", 35 times. We get it, they're undercover agent. You don't have to keep telling us. And there were other phrases as well. The writing, while good, was quite repetitive. The pace was okay. The ending… I disagreed with a thing or two (but not with John decision about his new job; that was the right call).
Overall, this is an enjoyable read. I really did like it and I'm looking forward to reading more by the author. But it also had many flaws. Still recommend read it, as long as you're not nitpicky.