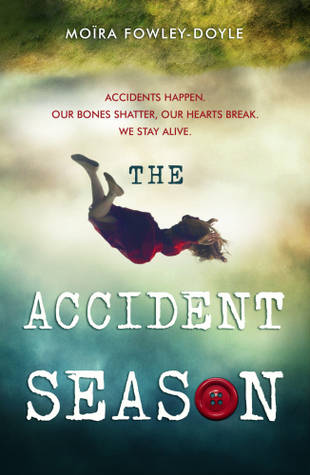 Genre: Young-Adult, Fantasy, Mystery
Pages: 282
Series: None
Release Date: August 18, 2015
Publisher: Corgi Childrens
Date Read: February 23, 2016
Every year, toward the end of October, Cara's family becomes inexplicably accident-prone. They try to be as safe as possible, getting rid of sharp objects and turning off electrical appliances, but injuries still happen and no one knows why. But this time, Cara will try to solve the mystery and maybe end the accident season.
But before she does that, I have a confession to make. I-only-read-this-book-because-of-the-name.
You know how some people buy and read books because of the covers? Yeah, it's like that with me and names. If a book has an awesome and interesting name (I still maintain that 'Do Androids Dream of Electric Sheep?' is the best name ever), then I'm going to want to read that book. 'The Accident Season' sounded really interesting. Which is why I hate to say this, but I hated this book.
I just couldn't, for the life of me, like anything. There was one point, near the 60-65% mark, when I thought it was starting to get better. But then chapter 12 destroyed everything. I don't even know how I got through the last quarter. Oh wait, I do. I did it by skimming through it. And by sheer determination. Because nothing about the book worked for me. The basic plot, about the accident season, could have been interesting but it barely came into play. The whole book was just a series of random people doing random things, weirdness and smoking (weed, too). There was no explanation for things that actually needed explaning.
This book was so vague that it didn't make any sense. I didn't know what the fuck was going on half the time and the other half, I didn't know what the thing that was going on had to do with the plot.
I also didn't like the characters at all. Cara was childish and annoying, Sam, Cara's ex step-brother, was there to be the love interest (am I the only one who didn't find the relationship between Cara and Sam repulsive? Because a lot of people seem to). Their mom was irritating and a terrible parent, in my opinion. There were a few friends: Bea was… high, and Alice seemed almost sensible but then that got ruined as well.
I didn't like the writing either. Not only was it more than a little incoherent, it felt like the author wrote about 12-year-old who got drunk often, smoked a lot and got high on ocassion. And all the illegal stuff that they were doing was mentioned so casually that everything came off as odd and out-of-place.
Finally, let's talk about the cliche-ness of it all. This book had all the cliched horror tropes.
Creepy house ✔
Shop that's only there so the main characters can go to it once ✔
Some person that may or may not exist ✔
Convenient Wind ✔
Things happening on their own ✔
Stupid characters who are stupid ✔
Pretty sure there were some other as well but these are all I remember for now.
And if that wans't bad enough, the author had to through some YA tropes as well. Like a stupid-ass love triangle and an angsty, overdramatic female protagonist. Though to be honest, Cara wasn't the only dramatic presence. A lot of the things about this book were overdramatic. Like the writing with the excessive use of metaphors-that-aren't-really-metaphors-but-really-just-lines-that-sound-deep-and-have-no-meaning.
Overall, I didn't give a shit about anything or anyone. And other than 10% of it that made me think that the book might be getting better, and the fact that it had could have been good if it weren't so poorly presented, there was nothing to like. So unless you're okay with a whole lot of weirdness and little sense, I wouldn't recommend reading this one.