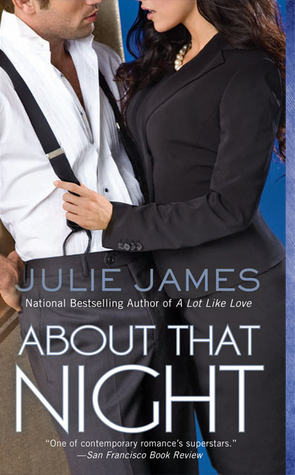 Genre: New-Adult, Contemporary, Romance
Pages: 284
Series: FBI/US Attorney #3 (Can be read as standalone)
Release Date: April 3, 2012
Publisher: Berkley Sensation
Here we have another book that's difficult to review. But here, the reason is that I just reviewed the previous book of the series. Which means we have the same author, the same series and lot of similarities (because, you know, same author, same series). And I feel like I won't have anything new to say. But let's go for it anyway.
About That Night is about Kyle Rhodes. He's a computer genius and the son of a billionaire. He's just gotten out of prison after he hacked into twitter and shut it down for two days after his girlfriend dumped in the worst way, on twitter. He got a longer sentence than he deserved because the US attorney, at the time, was an opportunist asshole. Now that he's out, he wants to get his life back on track. And that does not include helping someone from the same office that called him a terrorist.
But a blast from the past — the 'one that got away', you could say — changes his mind. He met Rylann almost a decade ago. They were both interested but, due of reasons, nothing happened. Now, after many years, even with him as an ex-con and her as an attorney, he can't help but wonder if maybe they could finally act on their attraction.
Rylann isn't on board with his flirtation. Not at first. Yes, she finds him attractive and he's a likable guy, but she can't see things working between them. Not with his status as the infamous "twitter terrorist" and her being new at the office. But they still give things a (casual) shot and I gotta say, they had a lot of chemistry. A lot of things have changed over the years for them, but not that. They still get along and their relationship, filled with plenty of flirting and banter, is so sweet. I was definitely rooting for them. For me, Kyle and Rylann are tied with Jack and Cameron (from Something About You).
Other than the romance, the case Rylann was working on played a small-but-crucial part. There were many small sub-plots, when I think about it. There was Rylann dealing with her own breakup, lots of fun time with Kyle's sister, Kyle getting his life back together after being in prison for four months, and other seemingly small things that really fleshed out the novel. Seeing both Kyle and Rylann's life outside of one another was great for getting to know them.
Both the protagonists were great. The book was well-written, funny, cute and I really liked it. I think it's my favourite, so far, by Julie James (though Something About You kinda has a special place, maybe because it was the first in the series). So if you're looking for a good, lighthearted read, this is definitely one I recommend.