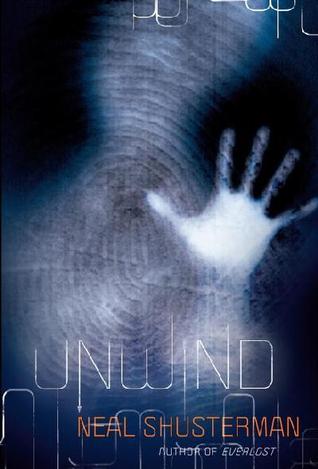 Genre: Young-Adult, Science Fiction, Dystopia
Pages: 335
Series: Unwind #1
Release Date: November 6, 2007
Publisher: Simon Schuster Books for Young Readers
After Scythe and Thunderhead, I knew that I had to read more by Neal Shusterman. And I've heard so many great things about Unwind, which got me even more excited. Then I found out that you can read it for free on Riveted (until 29th January) so my definitely-reading-soon plan changed to definitely-reading-right-now. And I'm very glad for that.
Unwind is a much darker story than Scythe. It's very much not set in a perfect world. Any parent can donate/sell/throw away their child, as long as he's between the age of 13 to 18. But not in a simple way, no. Those kids are taken to harvest centers and every single part of their body is transplanted to another individual. And it's all legal. Hell, it's not even frowned upon that people are killing children! Of course, they don't call it "killing" (such a bad word, isn't it?), they call it 'unwinding'. They claim that the individual is still alive, simply in a divided state.
At first, I was shocked. I mean, how can something like this happen? But the more you read the book and learn of the situation, the more plausible it seems that people could actually do this. The process of unwinding is the consequence of a war. And there are so many benefits that most people are happy to look the other way.
We have three protagonists. All unwinds. Connor is a troubled teen whose parents gave him up. Risa is a ward of the state and is being unwound because of budget cuts, and Lev is a Tithe. Now, Tithes are special. They're raised to the age of thirteen for the sole purpose of unwinding. They're told their whole life that they're serving a higher purpose. It's really fucking messed up and, with Lev, you see how it's affected him to the point that he's proud to be unwound.
Connor, Risa and Lev are all on the run. They need a safe place to lay low till they reach eighteen, which is not gonna be easy. They're kids who can't ask anyone help because that person is likely to turn them in. They don't have resources or connections. All they can do is keep moving.
I liked all three characters. Connor is the problem child. He's impulsive, has a quick temper and has a tendency to get himself in trouble. Risa is smarter and she helps Connor to try using his head instead of just jumping into things. Lev is complicated. He's angry at Connor and Risa for taking him away from his execution, he's confused by the events that lead up that point, he's proud of his status as a Tithe, he's unsure of what to do, but, most importantly, he's a thirteen-year-old, who's been brainwashed and has not clue what to do.
His journey was the sad to read. And that's what this book is, everyone's journey. It's a pretty straight-forward plot set in a messed up, broken world. Three teenagers trying to survive. Of course, we meet other kids. One is Cy-Fy. Even though I can't say anything about him, I had to mention him because his story was the most touching.
Despite the "simple" plot, there are a lot of things going on, the pace is fast, and there's lots of emotion. If there's one small thing I have, to complain about (and it's not really a complaint, per se), it's that I would've liked to know more about what lead to the passing of a bill which dictated that you could unwind your ward. Like, we know the basics but I wanted more depth to it. How could people agree to this? I'm hoping we'll get more insight in the sequels, which I will most certainly be reading. As for this one, I highly recommend reading it.